Two in One Sunblock For The Outdoorsy Filipina
It's quite rare for a sunblock product to have its own following but in FilipinaMustHaves, we have sought for the most-recommended one out there. It seems that Filipinas are quite particular in what we want in one – non-sticky, light feel, effective with the appropriate amount of SPF and that it should be absorbed easily by skin.
Summer means summer activities – beach, treks and longer sun exposed activities! In any Filipino summer supplies list, an effective sunscreen is at the top of that. While its SPF is important protection rating against sunburn, one needs to protect the skin from aging UVA rays as well. UVA (ultra-violet) are known to penetrate deep into the skin, causes pre-mature damage like fine lines, dreadful wrinkles and age spots.
Effective Filipino sun protection in a tube is now in Neutrogena's Ultra Sheer Dry-Touch Sunblock SPF 50+. It's packed with two important features: Helioplex™ technology' UVA + UVB sun protection and sheer finish and feel with its Ultra Sheer Dry-Touch technology. 50+ SPF protection allows longer exposure to the sun without the need for constant reapplication for the active Filipina in you.
Neutrogena Ultra Sheer with Helioplex™ technology for longer lasting sun protection and DryTouch™ technology for light and non-greasy feel on the skin.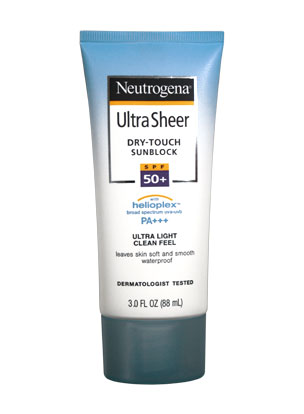 Other sunscreens do leave a sticky after-feel that makes you not want to re-apply and just forget about the product. Neutrogena's Ultra Sheer Dry-Touch technology guarantees quick-dry experience. It's oil-free and boasts of its grease-absorbing ingredients, flexible enough to a contender to your mattifying makeup base. Your skin will surely love you for giving it what it needs for immediate and effective sun protection – a velvety-like feel for a sunblock that has SPF 50+. Ultra Sheer Dry-Touch Sunblock SPF 50+ is gentle even for Filipinas with sensitive skins.
Although the Philippines may have varying weather conditions all-year, remember that the sun's skin-damaging UV rays penetrate the cloud and glass windows (even your car's!), and are reflected on the ground. Neutrogena Ultra Sheer Dry-touch Sunblock SPF 50+ is for you, you sun-loving Filipina!