The Benefits of Dead Sea Salt: Sea of Spa's Salt Soap
I've been trying out various Black Pearl Cosmetics Philippines products I bought in Makati over the past month, and this luxury skin care line contains one ingredient that's been of great interest to me lately: Dead Sea salt. Sea salts in general are known to be good for the skin for multiple reasons, including exfoliation and improving skin hydration. Dead Sea salt is said to be the best of all sea salts available to mankind, though.
Health resource website Healthguidance.org notes the historical significance of the Dead Sea. Located in the borders of Israel, Jordan and Palestine, this Asian salt lake is famous for its hypersalinity (in simple English, that means it has a high concentration of salt) and its mineral-rich waters and black mud. Its salt content is said to be several times more concentrated than most bodies of water found in the world. Its high salt content is too harsh for fish and plants to survive; however, the natural salts found in its waters are rich in minerals that are good for your overall health. In particular, these minerals and salts have therapeutic and cosmetic benefits, making them the perfect primary ingredient for any beauty product.
Trying Sea of Spa's Salt Soap
It was through exploring different Black Pearl products that I came across Sea of Spa's Salt Soap. Sea of Spa is the family-owned company bought and expanded by Black Pearl, and its original products continue to be offered by Black Pearl.
From their website, the Sea of Spa Salt Soap is described as:
"Sea of Spa's Salt Soap is rich with 27 active Dead Sea minerals and pure essential oils that make the skin look healthy and clean. The soap cleanses thoroughly and helps in dead cells removal. The soap will help the skin maintain a balanced moisture level. For all skin types."
I have combination skin on my face – oily on the T-zone and dry everywhere else – so I'm normally skeptical about products that say they are for all skin types. This soap has Dead Sea salt as its main ingredient, however, which made me want to try it.
The product is pretty straightforward: it is a 200 g bar soap that comes in the Sea of Spa green box packaging. The soap is a white rectangular block and smells fresh – it has an ocean scent that I like, and it's creamy to the touch once you use it. Slathering it on my face felt like putting on cream because it was that rich, and I felt no sting on my skin. After washing it off, my skin immediately felt supple and looked visibly brighter and more radiant. The oil on my T-zone is also visibly reduced without drying out the rest of my face.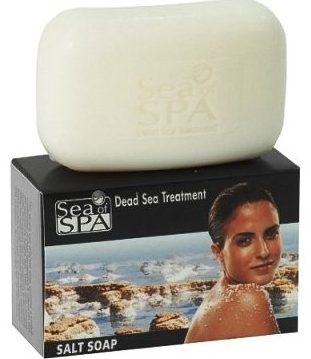 What makes this product so effective?
Going back to Health Guidance, they list the minerals in Dead Sea salt as the following: magnesium, calcium, iodine, zinc, bromide, potassium and sulfur. You will notice that these are the same minerals found in human skin cells. The Dead Sea salt content in Sea of Spa's Salt Soap replenishes these minerals in the skin, restoring its vitality and keeping it youthful for as long as you're using the product.
Other benefits of Dead Sea salt are listed as follows:
Great exfoliant.

Sea salts, as I have mentioned earlier, are great at removing dead skin cells from your body. Dead Sea salt is said to be more effective at doing this than other sea salts. It cleanses your pores and helps in regenerating your skin, giving you the youthful glow that I described after using Sea of Spa's salt soap.

Removes toxins.

Dead Sea salt is great at removing toxins and helps with improving blood circulation, keeping your skin supple and nourished.

Possesses anti-aging properties.

Dead Sea salt makes your skin firmer, replenishing your skin with the minerals it possesses – Sea of Spa says their product contains 27 different minerals.

Anti-inflammatory.

Dead Sea salt has anti-inflammatory properties, which helps in treating skin problems such as eczema and psoriasis, and makes it perfect for treating acne. This property also helps reduce the inflammation of dry skin.

Relaxes muscles.

Using the soap was refreshing for me, and it turns out that's also an effect of the Dead Sea salt. The salts help reduce skin stress and relieve muscle tension.
The Verdict
I've been using Sea of Spa Salt Soap for a couple weeks now, and I'm happy with the results so far. My skin feels hydrated all over without feeling oily or sticky. It also looks clearer, with my blemishes disappearing slowly and my skin becoming smoother. Makeup glides on smoothly now and stays put because my skin is smoother than it was before I used the soap to cleanse my face.
There is one caveat: because Black Pearl Philippines Cosmetics is a luxury skin care line, don't expect Sea of Spa to be cheap. At $40 a bar, this soap is more expensive than your average daily facial cleanser. It's worth the extra cost for me because I'm paying for premium ingredients – 100% natural ingredients from the Dead Sea instead of synthetic chemical formulations. If you're into products that make your skin feel pampered without having you worry about the ingredients, then this is the product for you.
You can learn more about the Sea of Spa Salt Soap or the entire Sea of Spa line in their Facebook account.